Well done Harry Styles you knocked Ed Sheeran off his No 1 position on the aria charts that he held for 13 weeks. I know everyone is saying that this song sounds like the Beatles and I would have to agree it does to me this song also sounds like Oasis and David Bowie.
It's been a interesting few weeks since we lost our internet and home phone connection due to the NBN (the national broadband network) or as I'm currently calling it the not bothered network as they are not bothered to fix there faults when connecting a new housing estate my man has spent around 20 personal hours ringing our old existing service provider(who we were with for 10 years), our new service provider(which we were supposed to be connected to the NBN with), the NBN Co(to try and find out when we will be connected to the NBN) and then he went to two stores of another telecommunications company both in Mackay and Cairns to find out what happened to our existing connection then to find out what was happening to our new nbn connection and then to now get a new copper line connected just so we can have adsl and a home phone so we can get the NBN when it eventually comes.
A few weeks after we lost our internet we found out that our region will be visited by Cyclone Debbie we had three days to prepare for her which when you have been through the likes of Winifred, Larry and Yasi just to name a few you know what to do to prepare and sort of what to expect having said that Cyclone Debbie was different to the others as she came during the day time so we could see the wind blowing the trees and the rain horizontal on to the windows of our house she also was a very slow moving cyclone she went for three days straight (usually they come at night time and come in very fast) so we were very tired because you couldn't sleep from the sound of the wind and the rain pounding against the windows and just when you thought she was done she left a huge thunder storm with the loudest thunder I have ever heard along with lightning that lasted all the last night it was mad we also lost power for 4 days and mobile phone service as well which I was glad we had our mobile phone through a different service provider so we could communicate before and after the cyclone with our loved ones because we lost the service due to the cyclone otherwise we wouldn't of had that from being cut off by the NBN.
This is a track map of Cyclone Debbie we were in Mackay when it hit weather is always worst south of the cyclone system.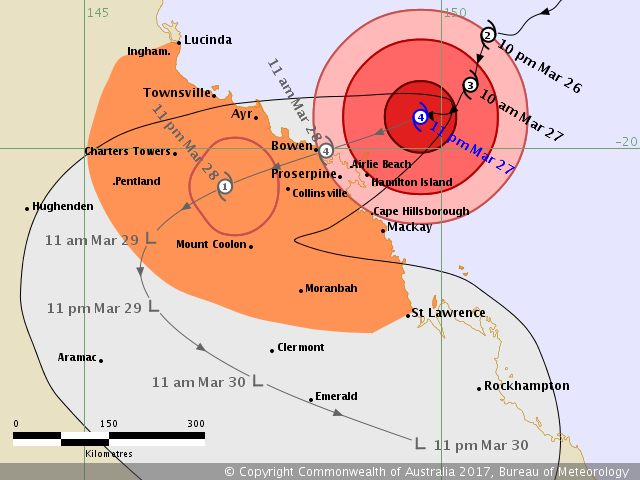 This video is of my home town Mackay.
This is our marina in Mackay during cyclone Debbie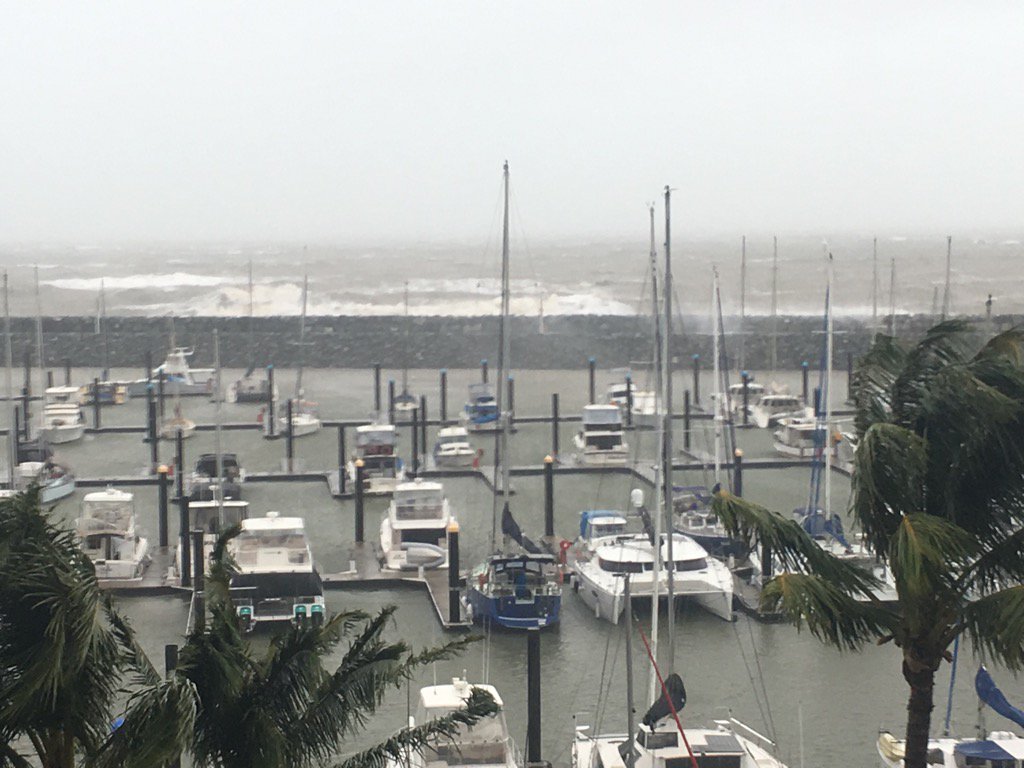 I'm up in Cairns today as I'm going to see my Endocrinologist this afternoon to find out what my latest blood test reveals and to see what I can do for my fatigue (when I was 18 I used to swim 50 laps in my pool everyday now at 38 I don't even know if I could even sit in a pool without feeling tired sign of the times lol) we drove up yesterday as we were not going to pay $315 each both ways via our domestic airline service just for a weekend although it's a very long drive 9.5 hours roughly if we hadn't driven I wouldn't of seen seven rainbows along the way one was a double one which were just beautiful to see and I'm hoping they bring me some luck this weekend nothing beats the real thing when it comes to rainbows but you can now buy rainbow projectors I would of loved this when I was little how cool 🙂
This school is just down the road from our house in Mackay what a sweet photo and love the rainbow.